<![if !(lte IE 8)]>
<![endif]>


Alice in the Land of the 40's
01.07 - 08.07.2011
An exhibition by Antoniya Marinova
Opening: 01.07.2011 at 18:30
Arosita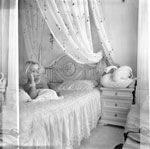 "Alice in the Land of the 40's" is a fairy tale of forty-year-olds stories. The exhibition has been provoked by my encounters with death. "Forty" is a figure bearing specific message. It accompanies us from the moment of our birth till we die. On the 40th day we introduce the body to the society; we don't celebrate out 40th birthday; 40 days we fast; 40 days after death we see the soul off on her way to afterlife. So many "40" occasions in our lives to bring joy, smiles, hopes, dreams, consideration, fears and memories. 40 years old are the women who sat before the lens allowing me to catch a glimpse of their lives and tell this tale. The films with which the exhibition was shot have expiry date August 1970. All imperfect details are accidental but all perfections are intentional.

In memory of my mother and with gratitude to my sister.

Antoniya Marinova was born in 1971. She works in the area of Applied and Fine Arts. Member of the Bulgarian Artists' Union and "Yanka Kyurkchieva" Academy of Photography. Author of over ten individual exhibitions. National and international award-winner: medal from the 68th Asahi Shimbun – Japan 2007; silver medal – "Paracin 2007", Serbia; 2nd prize "Music in the lens" 2007, Bulgaria; 2nd prize – "Public Republic", Hamburg 2008; bronze medal – PHOTOACADEMICA 2005 and 2006, Bulgaria. She has participated in international and national Biennials, exhibitions and other events with works of photography, paintings and sculptures.