<![if !(lte IE 8)]>
<![endif]>


The Art of Jazz
18.07 – 31.07.2011
An exhibition by Evgeni Dimitrov, Miro Zlatev and Stefan Markov
Opening: 18.07.2011
Museum Gallery of Modern Art
The Art of Jazz can bring besides the joy of music delight to the music lovers', art connoisseurs and photo fans' eyes. As early as the beginning of the 1990's, Evgeni Dimitrov got infatuated with Jazz and caught with his photo camera most of the greatest performers to step on Bulgarian stage. Later when he founded BULFOTO Agency it turned out that his colleagues also share this passion.

The unique Jazz musicians' images in "The Art of Jazz" exhibition are unequaled walk through the History of the most viable and diverse style of music. "World-recognized Jazz masters have found welcoming public in Bulgaria and have established sound traditions in the acceptance of this music genre", shares the central author of the exhibition.

Photo reporter Emil Dimitrov and his colleagues from BULFOTO Agency have been covering Jazz for about 20 years now. Their rich photo archives have snapped world Jazz stars during their visit to Bulgaria, among whom are Betty Carter, Eddie Harris, Al Jarraeu, Marcus Miller, George Benson and even funk legend James Brown.

За авторите: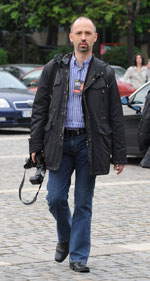 Evgeni Dimitrov is a professional photo reporter and manager of BULFOTO Photo Agency. His photos are featured on the first pages of most Bulgarian newspapers and magazines and the web-space. Some of the images of the Agency archive are published in European and American media. Evgeni Dimitrov is member of the jury of the prestigious BG Pressfoto Competition and organizer of many visual projects – Golden Thrace exhibition on the bridge behind the National Place of Culture; "20 years later" – devoted to the democratic changes in Bulgaria, "Rediscover Bulgaria" photo expedition, etc.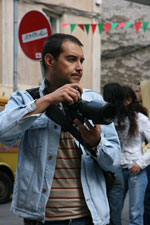 Miro Zlatev joined BULFOTO Agency team from the very beginning leaving his native Burgas to conquer national media. His name can often be seen as the author of photos to become leading news from all spheres of life. Despite his busy schedule, he tries not to miss a concert to absorb – in sound and vision – the beauty of music.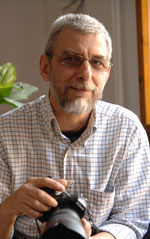 Stefan Markov has been a photographer and music devotee for over 30 years. The first Jazz concert he shot was in 1977, namely, the Second Jazz Review in Sofia, as an amateur at that. He had no chance to lay the foundation with the First as it was not open to public. Stefan has been a member of BULFOTO since 2006 and no quality music events in Bulgaria can go without his dedicated presence.