<![if !(lte IE 8)]>
<![endif]>


The Road to Silk
16.06 – 28.06.2011
An exhibition by Dimo Kalaydzhiev
Opening: 16.06.2011 at 19:00
Art Center Photosynthesis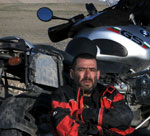 When he is not riding his motor-bike with the wind, Dimo Kalaydzhiev masters children's wooden toys –wonderful colored puzzles, letters, animals, locomotive engines and aircrafts. He enjoys playing with them together with his two kids – a daughter of 5 and a son of 8. His family loves him very much and it is very hard for them to say good-bye when he starts his motor-bike expeditions to faraway exotic places.
"The Road to Silk" is the name chosen by motor-biker Dimo Kalaydzhiev while preparing his trip to Central Asia in the summer of 2010.
The well-known "Silk Road" is an ancient trade route system from China to Western Europe. His vice-versa trip was conceived as a way to get nearer to China via Iran and Pamir Mountains as a challenge to surmount hardships and a photo expedition.

Presently, in 2011, "The Road to Silk" is the name of a dream to have come true. The background:
- 19 000 kilometers;
- 55 days;
- 3 deserts;
- 9 Mountain Ranges;
- Numerous streams and rivers;
- Meetings with 54 travellers from all over the world – bikers, foot-walkers, etc.;
- Talks with over 100 citizens of the 12 countries of the Route;
- Altitude variations from 0 to 4655 m;
- Temperature variations from -12 to +50°C;
- Traces of human civilizations from predecessors of Alexander the Great to Baykonur Space Travel Gate.

The road was taken with eyes wide open both to the wonders of nature and the people's everyday life. A romantic approach and a trap at the same time: ,"Actually, I'm still there. I haven't come back yet. I'm roaming here and there on the motor-bike, in those mountains – severe, smashing with their scale, no vegetation whatsoever, dizzying, unreal deserts in the clouds", shares Dimo.
Over 10 000 shots; more than 10 000 moments of the "Road to Silk" to bring back on his motor-bike. 100 of them are presented in this exhibition. One hundred invitations to meet the fierce beauty of distant mountains and deserts. With a stare and a smile, with the routine chores of men, women and children, still living there today, on the crossroads of trade camel kervans and conquerors' hordes.