<![if !(lte IE 8)]>
<![endif]>


Photographer's Troubles on the Road
24.06.2011
A discussion with Dimo Kalaydzhiev
Start: 24.06.2011 at 19:00
Art Center Photosynthesis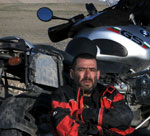 Meeting with road-rider Dimo Kalaydzhiev and presentation of his journey – live shared with reportage photos and video shows and first-hand experience sharing of his adventures.

"Photographer's Troubles on the Road" – discussion with Dimo Kalaydzhiev: selection of equipment; equipment storage and care; personal attitude and shooting environment; preliminary analysis.

When he is not riding his motor-bike with the wind, Dimo Kalaydzhiev masters children's wooden toys – wonderful colored puzzles, letters, animals, locomotive engines and aircraft. He enjoys playing with them together with his two kids – a daughter of 5 and a son of 8. His family loves him very much and it is very hard for them to say good-bye when he starts his motor-bike expedition to faraway exotic places.