<![if !(lte IE 8)]>
<![endif]>


Kitchen Stories from the Balkan
14.07 – 26.07.2011
An exhibition by Evgenia Maximova
Opening: 14.07.2011 at 18:30
Art Center Photosynthesis
The kitchen room is not only the soul and spirit of the Balkan home it is also the exact mirror image of the Balkan society.

The kitchen impeccably depicts the crossroad position of the, so-called, Balkan countries and conveys the highly perceptible sense of lost identity in the region – an inevitable legacy of the 500 years of Ottoman yoke and another almost 50 years of isolation and captivity behind the iron curtain There is neither time nor money (but it also lacks on spirit) for "creative" decoration in most of the Balkan homes (actually we, the Balkan people, would rather spend our money in cafés than on decoration or enrichment.) Most young families are either forced to live in rented properties (where the rental fee is often higher than an average monthly salary) or live packed like sardines in their parents' flats – usually located in hopelessly ugly, non-renovated concrete buildings – an omnipresent heritage from the communist era. In many of those flats time seems to stay still.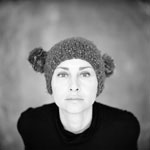 The author
Evgenia is one of the young photographers who have found their vocation in the field of documentary photography. Graduate Journalism at the University of Vienna, she began to engage actively in this area in 2008. Since then she has many awards from international competitions, two solo exhibitions and participation in international master classes in documentary journalism such as prestigious: "See new perspectives "Masterclass organized by World Press Photo Foundation and "Robert Bosh" in 2010 and NOOR – NIKON Masterclass in Documentary Photography of NOOR agency in 2011.