<![if !(lte IE 8)]>
<![endif]>


Canon Ambassadors
21.06 – 30.06.2011
A collective exhibition
Opening: 21.06.2011 at 20:00
Sofia, The NPC Bridge
'Image' is at the heart of everything Canon does. The Canon Ambassadors programme is an ambitious project, taking our links with the world of professional photography to another level. Inspired by the 'Explorers of Light' scheme which has been running in the USA since 1996, the European programme was created by Canon Europe in the summer of 2008 and so far has seen 12 of the world's top photographers invited to create a new and powerful connection between Canon and the professional community. Getty Images photographers, Lorenzo Agius and Brent Stirton, Paolo Pellegrin from Magnum Photos, Ziv Koren from Polaris Images, Thorsten Milse, Jeff Ascough, Frits van Eldik, Gary Knight from VII, Brutus Ostling, Vanessa von Zitzewitz, Jonathan and Angela Scott, and National Geographic's Michael Nichols.

A truly international group, they represent the full range of photographic disciplines from photojournalism and wildlife to fashion and wedding. They all have two things in common: they are photographers of the first rank, recognized and respected by their fellow professionals, and upholders of the highest standards in all aspects of their craft; as well as being long-term, expert Canon EOS users, who share a passion for the power of photography with a love for shooting with Canon equipment.

The Ambassadors programme creates opportunities for world leading photographers to share their expertise with other photographers, both professionals and enthusiasts, in workshops, seminars, photography shows, and assists Canon in developing new products that offer even greater creative possibilities.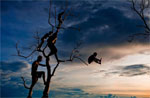 photographs by Brent Stirton