<![if !(lte IE 8)]>
<![endif]>


Counterpoints
22.06 - 04.07.2011
An exhibition by Nadezhda Chipeva
Opening: 22.06.2011 at 19:00
Industrialna 11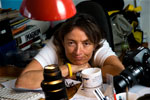 Autobiography
Name: Nadezhda Chipeva
Education: Photography…
Occupation: photo reporter and photo editor
Since 1981 I have gone through all stages of photography work: photo laboratory, film development and color images copying (manual).
I started my career in photo journalism in 1987 with the Bulgarian Telegraph Agency, followed by "Sega" magazine, "24 Chasa" and "Dnevnik" newspapers to my present job with the "Capital" newspaper.
I have five individual exhibitions; the last two were in Holland in 2007 and in Sofia in 2009 and participations in national and international events.
I have won many awards and am twice the winner of "Chernorizets Hrabar", the most prestigious in Bulgaria award for journalism.

Counterpoints

An exhibition concept within the "Month of Photography" The exhibition consists of 24 reportage images and presents aspects of the so little known to the broad European public Bulgarian internal political puzzle of the last ten years. Focus is placed on both emblematic for the period politicians and ordinary people and events. The works are part of my activities as photo journalist for the Bulgarian "Capital" weekly newspaper..
The twenty-four color images will be arranged on panels of 80 x 80 cm, executed on photo paper, on which are printed parts of newspapers' pages with key expressions revealing information on the time and place of the image creation. Each image is accompanied by caption explaining the context of the situation and personages involved.
Thematically, there are two types of images – of politicians and ordinary people and events.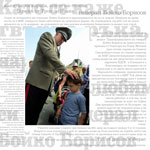 General Boyko Borisov, 2004
The present Prime Minister of Bulgaria Mr. Boyko Borisov – in the photo, some years before winning the elections while still a Ministry of Interior General, salutes a child at the celebrations of the professional holiday of the Bulgarian Police.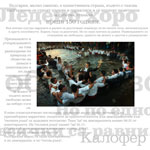 Ice Horo, 2007
For hundreds of years now, at the beginning of January, when East-Orthodox Christians celebrate Epiphany, the men from the small Bulgarian town of Kalofer step into the icy waters of the nearby river to dance "Icy Horo". It is believed that this ritual will bring them health, happiness and rich harvest.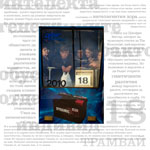 Tramcar №18, 2009
A packed tram in the rush hour in the center of Sofia. After 20 years of winding reforms, poverty and lack of perspective, for a big part of the Bulgarians the euphoria of democracy has turned into misery and apathy.