<![if !(lte IE 8)]>
<![endif]>


Disappearing Africa
21.07 - 02.08.2011
An exhibition by Dimitrina Vasileva
Opening: 21.07.2011 at 18:30
Art Center Photosynthesis
The "Disappearing Africa" exhibition consists of 50 images and presents the life and culture of some East-African tribes which due to the advent of civilization, globalization, forceful migration and climate and environmental changes, political and economic interests, along with the impact of Christian missioners presence, are losing their identity and are doomed to lose their cultural self-identification and authentic way of life.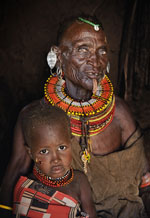 The images reveal the traditional way of life, the surrounding world, ethnic features and characteristic traits of people living in the remotest, most severe, austere, touchingly beautiful and at the same time biologically and culturally unique nooks of the Black Continent – the lands of the Turkana, El-Molo, Rendil and Samburu tribes of Kenya and Maasai, Datoga and Hadza of Tansania. One after the other, we see living portraits:
- the women of Samburu who bare-handed dig the ungrateful red, dry soil of Mount Kenya to reach stagnant, noxious water while at the background their children are staring with thirst-laden gazes;
- the young smiling Maasai mother-teacher who teaches kids both in Maa and English language;
- of the respectable Turkana Chief who has gathered the tribe for the traditional rituals and rites;
- the young Hadza hunter following the tradition of his ancestors of millions of years ago;
- the oldest woman of the smallest, almost perished tribe in Africa – El-Molo.

The images have intuitively locked the simple rhythm of birth and death, care, joy, ritual and daily routine, the beautiful, colourful self-expression of these African tribes. Yet, behind the documentary value, we can feel the vulnerability and dependence of the people on their land with which they communicate in a magic, ancient but doomed harmony.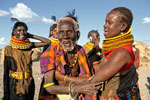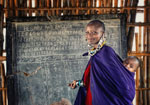 Dimitrina Vasileva left for Africa in November 2010 unsusceptible to a perception of being deeply involved with this beautiful, wild, untamed, victimized continent. She was guided by Steinbeck's quote: "We do not take a trip, a trip takes us"
From Kenya across the Equator to the dry lands of the North, a hard and dangerous crossing of the perilous African desert, the emotive trip took her across the lands of various tribes and their unique perception of life.
Back in Bulgaria, she brought memories and photos, and a heart that will always reverberate with the call of untamed Africa.

Dimitrina Vasileva was born in Varna in 1974. She defines photography as her own way of expression, her road and her freedom. Member of the Managing Board of "Varna Photography Association". She is participant and award-winner of many national and international competitions and exhibitions. Among them are: "The Person beside Me", Golden Crown, audience award, Special award at "Bodygraphy – Photovacation 2010", International "Varna" Photo Salon – 2010, 2009, 2008; "People and Streets – 2010" – photo-forum.net, HASELBLAD Bodygraphy Award 2009, 1st prize Photovacation – 2008 Master's Competition, etc. This year her photos were selected to represent Bulgaria at FIAP International Biennial in Singapore. Her works have been published in the "Eight", "Objects" and other magazines.