<![if !(lte IE 8)]>
<![endif]>


ArtExtreme
05.07 - 18.07.2011
An exhibition of the creative duo ANDARI – Anatoliy Radev and Daria Vasileva
Opening: 05.07.2011 at 20:00
Industrialna 11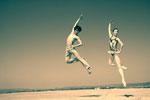 ArtExtreme is a photo exhibition devoted to the young stars of the world ballet, laureates of the 24th International Ballet Competition – Varna 2010. The audacious yet ethereal images were shot at a height of 72 m with the ballet dancers in extreme and dynamic air photo session on the first in Bulgaria certified Varna Towers' helicopter pad. They expressively enhance perception with modern vision revealing the potentials of the human body combined with high altitude, air and ballet movements.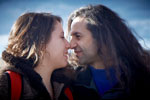 The authors of the images "ANDARI Photography and Communications" - ANatoiy Radev and DARIa Vasileva are photo reporters whose greatest asset is the improvisation of new personal, corporative and visual forms of communication. Since 2008, they have been traditional partners of the first in the world International Ballet Competition – Varna.

They have publications and photo shoots in the "Horseback Riding", "Off-Road BG", "Bride" and other magazines.
In 2010, the photo exhibition ArtExtreme was presented for the first time on the occasion of Varna Towers building opening.

Official curator of the exhibition is Mr. Krasimir Rusev, associated professor in the Art of Painting Department, St. St. Cyril and Methodius University, Veliko Tarnovo, a prominent representative of modern Bulgarian art.