<![if !(lte IE 8)]>
<![endif]>


Basic Concepts in Photography
06.07.2011
Free introductory lecture from the main course in photography with Georgi Nedelchev
Start: 06.07.2011 at 19:00
End: 21:00
Art Center Photosynthesis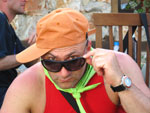 Basics of Photography – free introductory lecture on the main photography course (introduction to basic photography concepts illustrated with practical examples – exposure, blend, speed, ISO, white balance, depth of sharpness, focus and focusing, creative applications).

Introduction to the Annual Studies Program – lectures, practice workshops, discussions which "Photosynthesis" will undertake with the participation of Georgi Nedelchev and other guest-lecturers on annual basis.

About the Lecturer:
Photographer Georgi Nedelchev has long-year pedagogical experience upon which he has built up his own approach to teaching; he believes that a teacher's strife to impose his/her manner of work on the trainee is extremely wrong and destructive. He prefers to explain the main rules and logics of their implementation. On this basis the trainee can individually find his/her own way.

"I love photography. I adore photography! My whole conscious life has passed in attempts to learn something more about this kind of Art. At first I thought that the photographer is a person of profound specialized knowledge and some kind of magician at the same time… then I was in the sixth grade.
Later I somehow managed to convince myself that great photographers possess certain super-sensitivity distinguishing them from ordinary people. If otherwise, how could they create such beautiful works of art? (N.B. – how the hell they are able to arrange this f… studio lighting?)
Sparing long hours to analyze the issue, I came to the conclusion that each person daring to "make" art is an intricate composite of over-sensitivity, rich personal (emotional) experience and in-depth awareness of fundamental sciences like philosophy, psychology, mathematics etc. Such was my "analytic" approach. I had taken myself seriously. Fortunately, this lasted only three months! Then my sense of humor (my indicative for intellect test-marker) resurrected!
I have always had the perception that my road to photography has just started despite the years past. So far this road has been winding and very complicated. Yet this is the road to my childhood.
To me, photography is a go-between my feelings and those of the viewer.
My photos address other people, those who are able to escape daily routine and snatch some time to breathe a rose… And I would be very happy if my photos could make a "serious" person see the roses in this world!

The most important goal of Photography is to achieve the result we seek in the best and most accurate way. Photography is the world's greatest hobby and somehow every one is involved in it, even on a daily basis. There is possibly no family without a photo camera. Some way or another we are all "in" this endeavour which offers common grounds for communication and has become a universal language. You don't have to be a professional photographer or have N-thousand-dollar equipment to take a good photo. What we all need is exact data, the places and people to find it.