<![if !(lte IE 8)]>
<![endif]>


Rumyana Boyadzhieva
20.06 - 30.06.2011
An exhibition by Rumyana Boyadzhieva
Opening: 20.06.2011 at 17:00
Alma Mater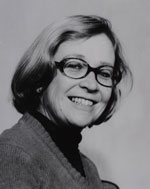 Rumyana Boyadzhieva
Born in Tsar Ivan Asen village, Popovsko area, in the family of a veterinarian and a teacher. Her student's years pass on the road following her parents' careers between different villages and cities.

The photography enters early in her life. Her first meeting with the photography is from the unusual, for her, side of the objective – she wins a competition for a Nestle commercial. A naked baby image of hers spreads in the Bulgarian market. Her interest in photography is registered in her early photos from Shumen where her grandmother lives in a picturesque house of a Turkish nobleman. Later she moves to Sofia as a student in the school of photography. Her career starts in the "Bulgaria" magazine under the supervision of Nikola Stoichkov. Whith the start of the Bulgarian television she begins to work there and is one of the founders and managers of the photographic department of the media. She doesn't leave this position till her untimely death in 1992.

Through the years she takes part in many national and international exhibitions. She is an author of several individual exhibitions who travel abroad. She becomes a member of the Bulgarian journalistic organization, she also wins an AFIAP mention. She wins numerous awards. Her picture is chosen for the poster and the cover of the World Press Catalogue in 1966. She has also won the Photokina grand award – the crystal obelisk. The government doesn't let her visit any western countries, but she is awarded with "Kiril and Methodi" order of 1st degree.

For years she is addicted to the ballet art. She takes pictures and knows in person some of world's greatest ballet stars. Here comes the recognition she appreciates the most – Arnold Haskel comment her exhibition during the Varna Ballet contest: "I don't know where the greater ballet is – here, in the exhibition or – there, on the stage"