<![if !(lte IE 8)]>
<![endif]>


Hexacopter Demonstration by VEOS LTD
13.07.2011
Start: 13.07.2011 at 17:00
the office of VEOS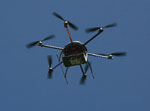 Welcome to the exhibition hall in the newly-built Veos LTD company administrative building in Sofia, 179 Okolovrasten pat Blvd.
In close proximity to the crossing with Simeonovsko shose (between HITACHI and JK FITNESS MARKET buildings).

Presentation of microcopters – devices for air photo and video footage

Microcopters are 4-, 6- or 8-rotor platforms with altitude control algorithm and ground remote control that make hovering easy. Maximum payload: from 2 to 3 kg enough to lift any type of DSLR and small video cameras. Battery charged, can fly about 15-20 min on one charge. Range of the system: radius of about 1 km round its standing position. FPV Option with real time footage monitoring.

Integrated GPS and full computer-based navigation control.